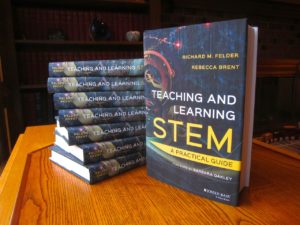 To learn more about our book, click on your selection.
Forward
Preface
Table of Contents
Chapter 1
Reading Guide (questions for reading circle and self-study)
Author's Biographies
Interview in Physics Today
Review in Advances in Engineering Education
Review in CBE-Life Sciences Education
Review in Chemical Engineering Education
Review in Education in Chemistry
Review in Intl. Journal of Engineering Education
Review in Journal of Chemical Education
Review in Journal of STEM Education
Review in MIT Cog Blog
Review in Physics Today
Review in UCO Transformative Teacher-Scholar
Reviews by readers on Amazon.com
Ordering information
To order individual copies of the book, use discount code STEM7 for 30% off at Jossey-Bass Higher Education. (Discounts do not apply to e-books, which are already discounted.) The book may also be ordered from Amazon and Barnes & Noble.
To bulk-order multiple copies at a discount, contact Mr. Hyman Smith (hysmith@wiley.com, 317-572-3511), or order through 800-CEO-READ (aaron@800ceoread.com, 1-800-CEO-READ, 800ceoread.com). The latter source ships both domestically and internationally.